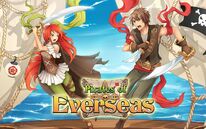 So you have arrived in the middle of the ocean on a small Island but don't worry, you will be given a good tutorial and 1 week of protection in order to build up your forces before engaging in combat against other players on the high seas! Yes, you start out as small fish in a very large pond but by following these methods, you can quickly grow to dominate your opponents.
If you follow these steps, you should become a feared pirate captain in no time!
Ad blocker interference detected!
Wikia is a free-to-use site that makes money from advertising. We have a modified experience for viewers using ad blockers

Wikia is not accessible if you've made further modifications. Remove the custom ad blocker rule(s) and the page will load as expected.